« February 2003 | Main | April 2003 »
March 31, 2003
HAWAII!
I made it to Hawaii! And, already, my stint on the Big Island is almost over.
Let's start with my journey out of New Zealand.
Rich left on Friday. Goodbye, travel buddy of a month. Mellow night, to bed early. Saturday, I woke up early to work. Work?? Yes, I worked to write up an abstract about our work on Erebus for a meeting in Potsdam, Germany in September. Didn't we get off the volcano just yesterday? And already they want us to report our results? A scientist's work is never done. (I know, I know, I've been on vacation...)
I sent the abstract off by noon, which was my goal. I include this for those of you who are familiar with how I am with deadlines--particularly self-imposed ones. Really, it was off by noon for a co-author's revision.
Then, as luck would have it, I ran into some ice people. It was grand. There was a wave of us coming back into Christchurch, and I was able to spend my last night dining with a great group of people who were coming from and going different directions. It's a good thing I found them, to, because with my work done, what else would I have been able to do? I had even finished packing.
And, I got a few hours of sleep before my alarm went off. 3 AM, for a 3:15 shuttle pick-up, for a 5:50 AM flight. What a horrible time. I slept some on the way to Sydney, and then fell in love. With Australia. We arrived on a beautiful Sunday morning, and I was positively itching to get outside. I mean, it was Australia! Crocodiles and kangaroos and koala bears, men in kakhi like Crocodile Dundee and Steve! The outback, the desert, didgeree-doos, aboriginal art, and Priscilla! And me with two hours in the Sydney airport. I was crushed.
Sydney-->Honolulu. Uneventful. I wasn't really able to sleep, which I expected would be a problem, as I had already booked a spot on a tour to see the lava on Kilauea the next day. 11:05 PM arrival. Let me run that by you again. Depart Christchurch 5:50 AM, arrive Honolulu 11:30 PM. Those times SUCK! And, I wanted to get straight to the Big Island, so I had booked myself a flight out at 7:40 AM. 8 hours in the Honolulu airport. I found a group of seats where a few other folks appeared to be settling in for the night, and set myself up. I pulled my cart of stuff in close, set my alarm clock up on the shelf, deposited my glasses next to my alarm clock, put in earplugs, placed my backpack on the seat next to me as an oversized pillow/backrest, and attempted to snooze. I did doze, until about 5 AM. At 5, I relocated to the domestic terminal and dozed some more.
Upon arrival in Hilo, I called the hostel for a ride. I was fetched by a Kiwi. How fitting. He took me back to the hostel, where I proceeded to try to get out of the tour (sorry, 48-hr advance cancellation only) and then tried to sleep for about an hour. I got up, showered, ate some instant soup, packed up my daypack, and met for the tour at 1 in hopes that the lava would wake me up.
Why tour? Don't volcanologists have the 'in'? Well, why not--can you really see too much lava? Besides, I figured it'd be interesting to get the tour guide's interpretation, and maybe meet some friends to hang out with at the hostal.
The trip was a success. Lava was sighted. It was sighted, watched, mulled over, and filmed. Lava. Red hot. I took a bunch of digital pictures and even a short film for the internet readers, but don't have a way right now of getting them from my laptop to this computer, so they'll have to wait. Lava. It was cool. No, it was hot.
We got back to the hostal around nine. And I ended up involved in a political discussion with two Canadians, 3 other Americans, one German, one Kiwi, and one Swiss until almost 1 AM. So much for being tired.
Monday, I was off to the observatory. Well, not quite like that--my ride didn't come until the afternoon, so I spent the morning chatting (not politics) with my new-found friends and relaxed. Then, up to the Hawaiian Volcano Observatory. Which is where I am now.
Posted by beth at 3:14 PM | Comments (2)
March 28, 2003
New Zealand in a Nutshell
Wow. Well, here I am, at the end of my New Zealand journey. My how time flies. And, at the same time, getting off the ice was so long ago....
Looking over my digital photo selection reveals a surprising lack of digital photos. No Spectacular views of mountains in fjordlands, no Bob Dylan, no documentation of my first views of coast or the biggest glaciers or the kias which I befriended. Not even many pictures of Rich or I. Still, there are some classics--for example, the Super Loo.
So. To recap. I arrived in Christchurch on a cloudy morning sometime about almost two months ago. I was traumatized, and then I mostly got over it. I hung around Christchurch for a few days and then went south, into the mountains. Amazing mountains which go straight up. I decided to start easy, hiking in to a hut from which I could hike several different options or, if I found I was ill-prepared or under-strengthed, just hike back out and catch a ride to town. I ended up doing a route called Cascade Saddle. It is at the tail end of, or at the beginning of, other loop tracks, but I didn't have enough food or gear to carry on. So I did it as a day hike. A 12-hour day hike. It's rated in the book as Difficult. And I made it. So I felt bad-ass. It turns out it's not treacherous in good weather--just steep.

Steep.
But rewarding. Here I am--possibly my only picure of me in my solo journeys--up top, with the waterfalls.

Note pants. That's the last time I wore them, because I ripped them up top as described in a previous entry. Both buttcheeks. Sad.
There were also some particulalry nice waterfalls dropping into the Mitukituki valley, where I stayed the night.

And an impressive glacier to boot--the Dart glacier.

This is what New Zealand's all about.

Not bad for a first trek into the New Zealand mountains. And, a good thing I was hiking alone, so I could take my own sweet time. Although, it was nice to hike with Chico Geoff and Canada Jeff for part of the trip--two guys I met the night before and would run into again down farther south, in Te Anau.
But I don't have any pictures of that. You'll just have to take my word for it. I went down south to Te Anau, and I did the Kepler. The Kepler is a Great Walk, which means it's designated as a good one--sorry, a great one--and is bound to have nice huts and a nice trail but also more people and a higher price. And, because of popularity, you have to book ahead. They booked me going the wrong way round. I was devistated. Most people do the tramp counterclockwise, and they put me on going clockwise. Which means that I would be going the opposite way of not only my buddies which I had met in our hostal dorm room the night before, but anyone else I may befriend and want to spend more than one night with. As it was, I was fine. I hiked alone during the day and thought too much, got in feeling alienated and antisocial, and then within about 20 minutes was bound to be engrossed in a card game with some friendly Swedes or a walk to see the glow worms with the German, Dutch, Danish, and Scottish crowd, or a trip to the nearby cave with some Americans. There's always something and somebody, like it or not.
Then, a quick trip up the west coast to see the sights and get rained out of further tramping. Big glaciers and drizzly beaches, and then to Arthur's Pass in the heart of the South Island on my way back to Christchurch. This is where I don't have the pictures of the kias. I went on a solitary day hike up towards the repudetly phenomenal Avalanche Peak, which turned out to be a little adventure. I guess everything is. I checked on the weather, which was supposed to be nice. And, so far, it was. I started hiking. Within half and hour, it was snowing. Not a light snow, but a snow-snow. A good, all around me, socked-in snow. Then, another half an hour later, it was gone. No snow. But, the new snow, now melting in the new sun, did make for somewhat slippery conditions up above treeline. So, because of that, and because I had a bus to catch to Christchurch, I turned around. I stopped just above treeline for a snack and to take in the view of the valley before descending.
Flap flap flap flap flap flap flap. And a cry. I hear kias. I look around. I spot them. They are flying towards the ridge I've been walking, and I call back out to them: Kia! Kia! They end up alighting not too far upridge from me. If I squint and believe, I can make out their bodies camoflauged against the bouldery background. I go back to eating. Cry, cry. Kia! I call, to amuse myself. Kia! Flap flap flap flap flap. They have flow downridge and there is one in a tree just below me. And then another, and then there is one on the trail marker not too far ahead and other on some nearby rocks. Are they surrounding me? And then one land on the ground in front of me, about twenty feet away. And walks towards me. Post-holing in the new snow. Step-sink, steop-sink, step-sink. Silly-looking bird. But it comes almost all the way over to me, and then flap flap flap hops over to the rock right next to me. Checking me out. And then another. Needless to say, within about 5 minutes I was surrounded by kias, literally. I had six birds within a six-foot radius, two on one side and two on the other and two behind me.
Kias. For those of you who don't know, these aren't just any bird--they're an alpine parrot. An alpine parrot! That's cool! And they're big parrots, too, with ruddy green outside feathers and beautiful red and yellow feathers under their wings. For those of you who do know kias, you know how obnoxious and what scavengers they can be. I don't care. That doesn't change the fact that they are beautiful birds, and that I had six creatures tentatively surrounding me and eyeing me inquisitively. I put away my food (a disappointment for them, I'm sure) and just watched them. Watched them watch me, and watched them preen and curl their feet and stretch their wings and yawn with outstretched black tounges. It was great.
Then, I went to Christchurch. To meet Rich. Who didn't come in.
I met Rich down on the ice and we'd planned to travel the North Island together once he got in. The tricky part is getting in. Cancelled Friday, which disappointed but didn't surprise me. I was lonely for, as usual, about an hour until I met up with other people from the ice and ended up hanging out with them--in this case, going to a comedy show. When the flight was cancelled Saturday, as well, I ran into more people from the ice and ended up going to dinner and to a rugby game (go Cruisaders), where I ran into someone I had met down in Te Anau through the two guys I met at Cascade Saddle. It's a small country, made even smaller when travellers are on a common circuit.
So, there's always something to do. Like meet somebody at the airport in the middle of the night. Anther ice person, Kelly, was anxious to see one of the folks arriving on Rich's flight and convinced me we should go meet them at the airport. I was reluctant. Especially whe I found out their flight would be delayed until 3 AM... But Kelly won, and we kept each other awake and amused and arrived at the airport as scheduled with beer and pizza to surprise our arrivals. It turned out to be a pretty good way to get points.
So began phase 2: Travelling with Rich. We started out on the South Island, spending a night at some hot springs which turned out to be a great way to accumulate tons of sandfly bites on those otherwise hard-to-expose places (ee-gads), and then heading up for our first big adventure: A 6-day tramp in the Nelson Lakes area.
Well, six days turned into two because Rich discovered that an injury he obtained in McMurdo was a bit more serious than he'd thought, so there's really not much to say there. Instead, on what would have been day three, we found ourselves in Picton, a town on the north coast. Key word: Coast. I can't say I had many complaints about the change. We went from there to a lodge on a small sound (Lochmara Lodge, thanks to Erica and Brad) and relaxed. Life was really tough. We lounged in the hammocks and read and ate and read and lounged and saw phosphorescence and one day took the kayaks out for a spin. I saw little fishies and muscles and a pink jellyfish the size of a fist.
Then, north. To the north island. Is this turning into a play-by-play?
We'll stick with the highlights.
North Island. Goal: See volcanoes. Here's my first view:
Okay, so the story goes: I really wanted to do the Tongario Crossing, a very popular one-day hike across one of New Zealand's volcanoes with views of two others. From the pictures, it's incredible. Other people's pictures, I mean. I ended up walking the Crossing on a day where the weather was beautiful.... Everywhere but up on the volcanoes. So, most the time my view was restricted to about what you see above. On a positive note, I didn't see anyone else the whole time. I think they were there, I just couldn't see them. Too much cloud.
On the way down, though, I did come out of the cloud and was treated to some nice views.


Lake Taupo is a big caldera lake, which would be our next destination because of thermal features. You know, the sorts of things a real scientist is interested in exploring for scientific reasons. Geysers and multi-colored pools and, well, hot springs.

[Hot springs on Tongariro.]
But first, the Rotary meeting. A highlight of the trip was attending a meeting of the 14-member Rotary club in Taurangi, where we were hosted by David Fookes. I even gave a talk.

Then, back on vacation. On to the thermal features....


[Champagne pool.]
And then, on to White Island, a volcano off the northern coast in the Bay of Plenty. We signed up for a tour which would take us on the 1 1/2 hour boat ride out to the island, trapse us around the island for an hour or 2, and then take us snorkeling before heading back to town.

[White Island. It's active.]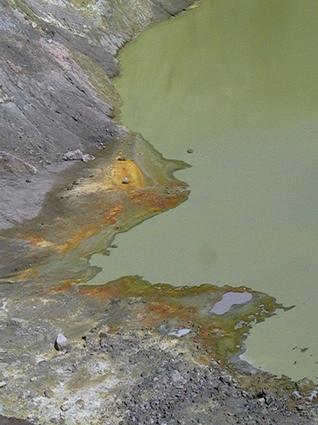 [A view into the crater.]

[The crater lake lapping at its shores.]

[Rich. He's got a hard hat on. That was provided by the tour.]

[Me. I don't have a hard hat on. Rich told me to take it off for the picture. It's his fault.]

[Sulfur.]
And then, there was time to check out the more charming aspects of New Zealand culture.

Especially the Super Loo. The Super Loo rocked. Entry only 20 cents.

Eventually, we had to head back down south.


[Sunset on ferry.]
And continued on back to Christchurch. But not before stopping to go whale watching in Kaikura. We saw two sperm wales,
seals,

and dolfins.

We drove the leisurely route back to Christchurch, stopping to check out some fine New Zealand scenery along the way.


[Gore Bay.]
And some wildlife as well. Well, life.

And I suppose that's an appropriate place to leave off. New Zealand. All this, and so much more. SO much more. I mean, how can I even start?
Next stop, Hawaii. I leave tonight for Honolulu (Rich took off yesterday for Holland via Sydney and Park City, UT). I plan to spend a week on the Big Island and two on Maui. As usual, though, plans are subject to change....
Posted by beth at 3:44 PM | Comments (2)