« Back Out: Ice Towers | Main | Ailments: Not for the Weak of Heart »
December 26, 2002
The Rest of the Day After
As if cruising around the ice towers wasn't enough, Nelia and I headed to the crater rim in the afternoon. Skank had started to move it, and it actually started to snow, but the trip turned out to be quite nice.
Our sole mission was to install a new monument on the crater rim, close to the camera site. I had picked out the site earlier, on a different expedition to the rim, and finding a reasonably flat, stable outcrop of bedrock proved to be a challenge. All the rock seemed to be either bombs, lava boulders, overhanging, or too steep. The overhanging rock seemed reasonably stable, but the idea of perching on the overhanging with a drill vibrating the rock beneath me conjured up ideas of falling with the overhanging rock into the crater that didn't seem entirely unreasonable. So, I kept looking, and I found.
The adventure was pretty exciting. This was the first official monument installation which I was in charge of (with some possible exceptions—what's important is that it felt like it was), which was kind of fun. We brought up the epoxy, babied in an insulated bag ("cooler" sounds too weird in this context) with handwarmers and a hot water bottle, a battery-powered drill, a level, and the stainless steel post for the monument with a little orange skirt with its name lovingly etched in with the sautering gun. To get to the rim, we park our skidoos as high as possible (sometimes borderline epic, given the often icy state of the slope) and then hike up from there. And, it's pretty much all up. It's not a terrible walk, but it's not a breeze, either. Nelia was kind enough to carry the batteries we needed for the survey. I love Nelia.
Monument installation went pretty smoothly. We took turns drilling, trying to get a nice, vertical hole in which to fix the monument, and deftly got the drill bit stuck. Getting it out was much harder, and took much longer. But, luckily, we got it out. And, we were able to put the monument in. It wasn't even too far off vertical.

[Photos taken on a sunnier day.]
The landscape on the way down was surreal. Skanky in a pretty, mysterious way. (Some of you may describe yourselves similarly…) On the drive back, the scene looked brand new: I felt like I was looking out onto a mountain range I'd never seen before I think it was the lighting—half the volcano before me in shadow, and a blue or violet hue in everything in view.

Nelia finds the lost camera. There was a camera installed on the camera rim last year, which stopped working in April. Bill thought maybe it has automatically changed chanels. Nelia and Rich E. visited the site early in the season and reported their findings. "We know what's wrong with the camera," they said. "It's gone." The camera was probably blown away in a wind storm. Nelia put it in Bill's cubby in the hut upon our return, as a surprise.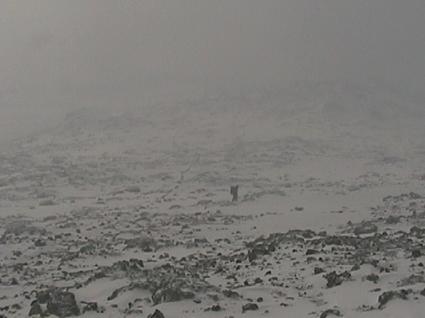 Nelia walks towards the skidoos (not pictured). To the left, rocked cables stretch as a beaded necklace towards Nausea Knob, at the base of the slope.

After a brief interlude back at the hut, Nelia and I set out again, this time for the Upper Hut (previous center of field work, until nearby bomb strikes in 1984; pictured above). Mission: Retrieve GPS intstrument which had been collecting data for several days. Nelia stopped her skidoo on the top of the hill approaching the hut. Problem? No. She pointed behind me. I turned. The low skank had cleared to reveal the sea ice, which stuck me as having been out of view a long time with the recent weather, and the sun was glinting off the irregular surface. On the way back, I lead, and I approached the hill slowly to savor the widening and deepening view.
Dinner was the best ever. (Every dinner seems like the best ever.) We had just gotten freshies in, and as a result ate delicious finger food. We had bell pepper, bagels and lox, and –tomatoes—and –BASIL--. AND, the galley sent up an entire box of good cheese. So, with our basil and tomatoes and crackers, we had brie. What a day.
Posted by beth at December 26, 2002 11:52 PM
Comments
Hmm, the things people do for good food. I'm glad I've never had to get trigger thumb to eat well. Good eating.
So, I have a question about the caves. Are they warmer inside than the outside air? They looked pretty cold, what with all that snow and ice around but they must be slightly warmer. How deep do you go before touching rock? I guess I'm wondering two things: how deep is the snow and how big are the fissures?
Best.
Posted by: Michael V. at December 31, 2002 1:05 AM
Posted by: Larry C. at December 31, 2002 1:46 AM
Skanky: adj. To posess the quality of skank.
Skank: n. Very similar to Smarm.
Smarmy: adj. 1. Dark, cloudy and a bit erie. 2. Damp and dank.
Kev's reaction to ice caves: adj. 1. Sweet! 2. Can i come too?
Posted by: Kev at December 31, 2002 10:49 AM
Okay, i must confess... i thought i made up the word Smarmy. And i'm appalled to learn that actually it exists. So does Skank. Dictionary.com says:
Skank: n. 1. A rhythmic dance performed to reggae or ska music, characterized by bending forward, raising the knees, and extending the hands. 2. Disgusting or vulgar matter; filth.
Smarmy: adj. Hypocritically, complacently, or effusively earnest; unctuous.
But definition #2 for skank IS what i was going for. Hmmm... maybe i subconciously believe ska dancing is vulgar matter.
I also believe I have too much time on my hands.
Posted by: Kev at December 31, 2002 11:33 AM
ok, now, what does it mean in the context of seeing a new swath of sea in Antarctica?
Posted by: LARRY C at December 31, 2002 1:15 PM
'Skank,' in this context, means fog. Clouds blowing through or around or below, obscuring view, and particularly unfriendly to helicopters.
Posted by: beth at January 1, 2003 12:42 AM